Are you looking to work with a great team that loves helping their customers live and work in cleaner spaces? We're hiring for the positions displayed below:
Commercial Cleaner
We are seeking a dedicated commercial cleaner with cleaning experience and a valid drivers licence.

C4 Building Maintenance is a well established and growing residential and commercial cleaning company that also provides junk removal, carpet cleaning, pressure washing and handyman services.

The position available is for an experienced cleaner who is able to work a variety of jobs and shifts.The role in the company is essential to delivering a high level of customer service and presenting the C4 values of Communication, Consistency, Cleanliness and Cost Effectiveness.

While your focus will be on performing cleaning tasks, you may also be asked to deliver supplies to both customers and employees, perform inspections of customer premises, drive employees to job locations and other tasks as required.


Expectations:
Provide top notch customer service to our clients
Maintain a professional image and presentation
Maintain work schedule of cleaning assignments for optimum efficiency
Operate various cleaning equipment (scrubbers, carpet machines, pressure washers, etc.)
Dusting, Vacuuming, Mopping, Scrubbing
Control use of cleaning supplies and maintain cleaning equipment
Requirements:
Minimum of 2-years commercial cleaning experience
Minimum of 2-years commercial cleaning experience
A pleasing personality
Good reading and writing skills
Excellent problem-solving skills
Driver's License (MUST HAVE)
We Provide:
Monthly Salary
Medical and Dental Benefits (after probationary period)
Performance Bonuses
Cost Saving Bonuses
Company Apparel
Benefits:
Extended health care
Dental care
---
Residential Cleaner
We are seeking experienced residential cleaning personnel with a BC Drivers License.

If you are currently working as a House Cleaner or have experience in cleaning, and have a Drivers License, we are recruiting to find those special individuals who want to deliver superior cleaning services and grow with us to achieve both personal and financial success.


Our top priorities and your attributes:
Ability to provide a cheerful and can-do attitude
Present a positive impression in appearance and conduct
Ability to follow instructions and record details and results
You also have the following:
A Drivers License
Cleaning experience
Speak and Write English
No Criminal Record
A Flexible Schedule (Daytime hours)
We offer:
Hourly wage $18/hour (Depending on experience)
Company clothing
Equipment and supplies
Bonuses and Incentives
Medical and Dental Benefits (after probationary period)
---
To Apply, please send us an email with the position you're interested in and your resume! jobs@c4maintenance.com
Sales Professional
We are a growing Building Maintenance Company seeking a dynamic sales representative to solicit, close and support major accounts.

You are someone in the janitorial and building maintenance field, looking to take advantage of a large opportunity to build and share in the organizational and financial rewards of successful selling.

A minimum of 5 years successful sales in the janitorial field is required.

Must have strong closing rate.


The skills you need to succeed in this role are:
Industry Relationships
Negotiation Skills
Superior Communication Skills
Cleaning Knowledge
Computer Literacy
Excellent Customer Service
Presentation Skills
Relationship Building
Tenacious Prospecting
Benefits:
Extended health care
Dental care
Vacation & paid time off
---
We're looking for a "special" individual who believes there are no limits to what one can achieve when they are focused and unwilling to accept the norm. Exceptional dedication and belief in pursuit of a goal will reward you handsomely.
We will offer the right individual a compensation plan that meets or exceeds the industry's leaders (Top achievers will exceed six figures annually) and provide the tools you need to succeed. This is an opportunity to create your perfect sales job.
Reply by email with a cover letter and resume.
To Apply, please send us an email with the position you're interested in and your resume! jobs@c4maintenance.com
---
See What Others Say About Us
Used this service many times, always satisfied, always quick and easy turnover!

Used C4'c cleaning service for a condo move in. Tenants before me were absolutely filthy (read, pet feces on the carpet, oil splattered all over the kitchen). Two very friendly cleaners came, divided, and conquered. The place is like new! I'm not quite OCD but was pretty freaked out at the state of the place. Any time I pointed out I'd like them to make sure to get an area, they'd already hit it. Very re-assuring. They also came in under my budget, which was a complete surprise. Recommend, absolutely.

Very efficient. I've used their service to move my couch out and bring the new one in. They were on time, courteous, and professional. I will definitely use their service again and maybe start exploring other services they offer besides moving stuff. Thank you!

C4 has provided us with excellent service. Our cleaner at The Point, Nike is very polite, friendly and efficient.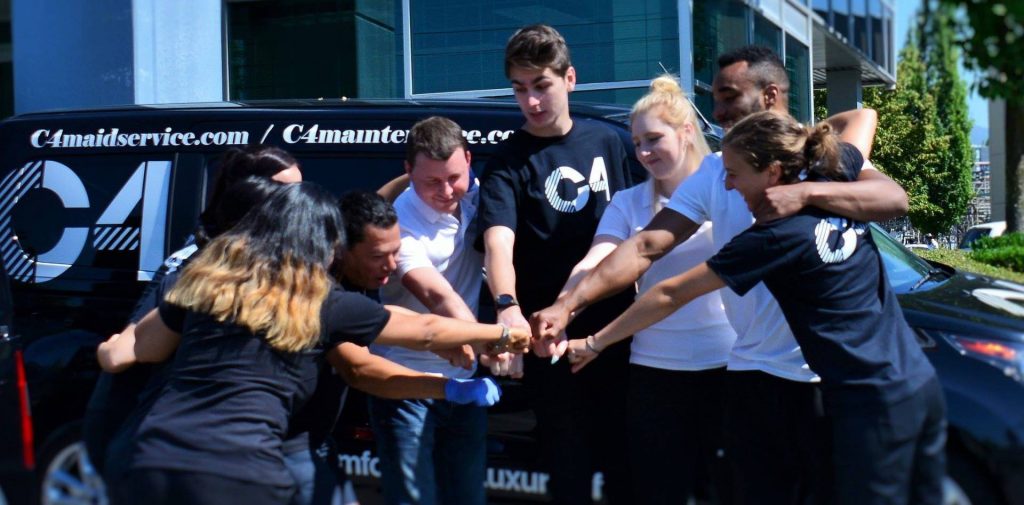 C4 Maintenance in Burnaby, BC, provides our clients with the best maintenance and cleaning services in the greater Vancouver area. We do so by ensuring each employee receives strong support in an ideal work environment. We are an employee-focused job provider that gives you the top training and equipment, as well as competitive pay rates.
If you are considering a career in the commercial cleaning and maintenance fields, we are the area's best job provider. C4 Maintenance provides office building cleaning and commercial property maintenance jobs that pay well and give you all the equipment and supplies needed to do remarkable work.
Enjoy Highly Beneficial and Lasting Employment
C4 Maintenance offers our team members much more than great pay and plenty of work opportunities. We strive to make our employees the happiest and the most supported in the greater Vancouver area. A happy worker does the best job and takes an interest in making our clients highly satisfied.
In addition to great pay and steady work opportunities, we also provide our workers with:
Gym memberships
IRS(b) match
Subsidized public transit costs
Our free gym memberships enable you to stay in good physical condition all year round, and you can bring a friend along, too. If you rely on public transportation, we can subsidize your public transit costs to make them affordable while helping you make it to the work location throughout the year.
We also complement our great pay and job security with an IRS(b) contribution match that helps secure your retirement. We have many great benefits that help make our property maintenance and office building cleaner jobs highly desirable and the best in the Vancouver area. You just need to apply to make it possible to join the professional team at one of the area's best employers.
Contact Us Today About Our Many Great Job Opportunities
If you are interested in joining our team at C4 Maintenance in Burnaby, you can complete an online application or call us at (604) 398-2131 to learn about our many great career opportunities. We can answer any questions you might have regarding our job opportunities and the benefits provided.