Professional Garbage Removal When You Need It
At C4, we provide junk removal services in Vancouver and the Lower Mainland as part of our property maintenance services.

We have a professional, reliable team ready to take care of the disposals on your place and keep it junk-free.

We care about the environment and we make sure that your garbage will not end up in the landfill. We're committed to exceeding expectations by delivering the highest possible standard.
What We Remove
Old Appliances
Old Furniture
Old Mattresses
Yard Waste
Electronics
Scrap Metal
We Provide
Commercial Junk Removal
Residential Junk Removal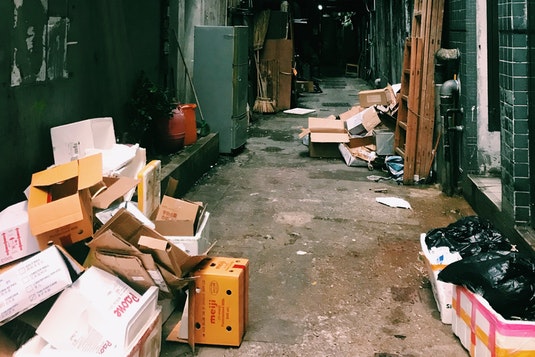 ---
---
See what our clients are saying about our commercial cleaning services
Used this service many times, always satisfied, always quick and easy turnover!

Used C4'c cleaning service for a condo move in. Tenants before me were absolutely filthy (read, pet feces on the carpet, oil splattered all over the kitchen). Two very friendly cleaners came, divided, and conquered. The place is like new! I'm not quite OCD but was pretty freaked out at the state of the place. Any time I pointed out I'd like them to make sure to get an area, they'd already hit it. Very re-assuring. They also came in under my budget, which was a complete surprise. Recommend, absolutely.

Very efficient. I've used their service to move my couch out and bring the new one in. They were on time, courteous, and professional. I will definitely use their service again and maybe start exploring other services they offer besides moving stuff. Thank you!

C4 has provided us with excellent service. Our cleaner at The Point, Nike is very polite, friendly and efficient.
Get professional, reliable commercial cleaning services today!
C4 Building Maintenance in Burnaby, BC, provides our residential and commercial customers with the area's best and most professional junk removal service. Our employees are always courteous and professional, and they are highly experienced at safe and environmentally friendly junk removal.
We can handle removing a variety of items that you no longer need and that require quick and efficient removal. As long as it is safe to remove the items, we can complete the requested task. We always work respectfully, professionally, and with as little intrusion as possible.
Competitive Rates for the Best Junk Removal Service
We offer highly competitive rates for junk removal services that clean up your cluttered spaces and make them usable again. Our workers remove the items during a scheduled time for your convenience.
Whether you have one big item or a lot of little ones to go with it, we can remove your junk, including:
Appliances
Furniture and mattresses
Electronics
Scrap metal
Yard waste
Our crews are highly trained and experienced to perform quality junk removal with the least possible disruption of your work or home activities. We work safely, quickly, and efficiently. You can count on us to remove your unwanted items and clutter.
Environmentally Friendly Junk Removal and Cleaning Service
We never perform junk removal without ensuring our workers use the most ethical and environmentally friendly practices. We can haul scrap metals to recycling centers and will not dump hazardous materials in landfills or other places where they do not belong. (Please note: We do not handle industrial chemicals or other potentially toxic or hazardous waste.)
Contact Us for the Best Junk Removal Service
C4 Building Maintenance in Burnaby has more than a decade of experience helping our clients get rid of their unwanted junk. Our competitive rates and clean, friendly, and professional team of junk-removal specialists will take care of your junk removal to your satisfaction.
Call (604) 398-2131 to learn more and schedule your junk removal service. We are open from 8 a.m. to 4 p.m. every day of the week and accept payment via cash and major credit cards or debit cards.